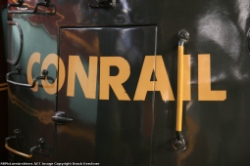 Welcome to the RRPictureArchives.NET contributor site of Brock Kerchner.



Hello, I hope you enjoy some of the pictures over the years. I am currently the Vice President for the Conrail Historical Society (thecrhs.org) Check out the website and come join a great bunch of people dedicated to preserving the Conrail Spirit. I am an avid fan of the Conrail Office Car Special. I buy and collect anything remotely pertaining to the train including pictures. I have a collection you can only imagine that will someday be publicly displayed permanently in an all CR Museum. I do display select pieces on occasion. The next viewing will be at Railfest 2008 at the top of the Horseshoe Curve.

You will find photos mostly in the Northeast US since 1997 in my albums. Enjoy the photos, leave me a comment or two!

I am seraching for any photos of these engines:

CR 0797, 4020, 4021, 4022, 5069, 5527, 6101 (SD45), 6305, 6975, 7997. NS 6778, RDG 7601, EMD 797

THANKS!



You may browse my collection of pictures via the menu located on the left hand side of the page. I hope you enjoy the collection and thanks for stopping by!